Beer + chili = a match made in heaven! Spice up classic chili with a bottle of your favorite beer to make this delicious vegetarian beer chili.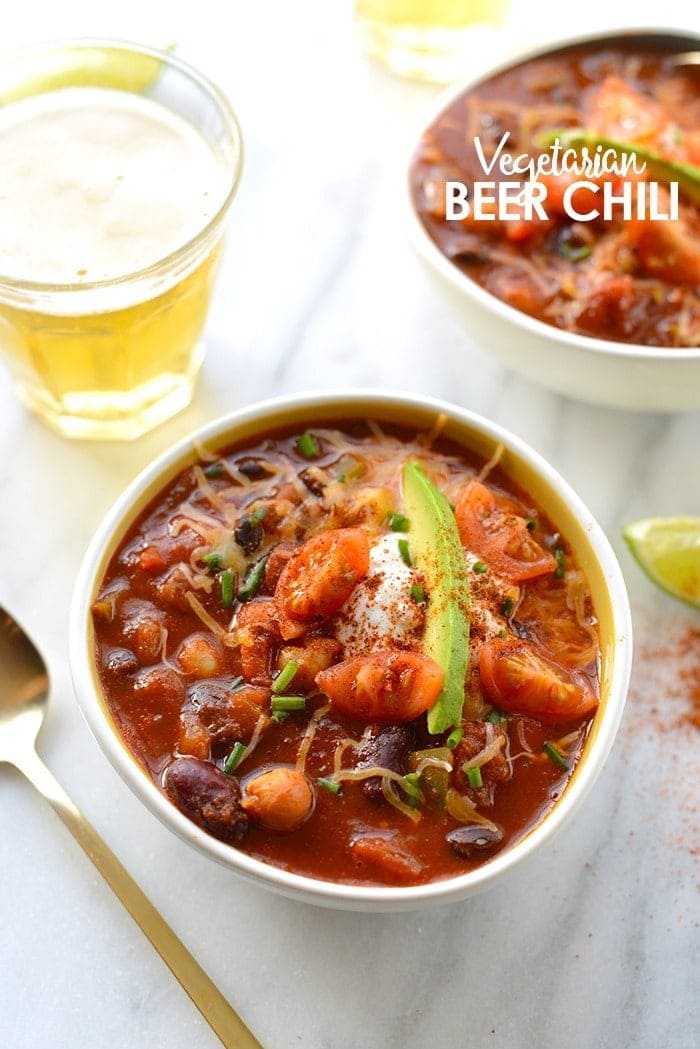 Ready in less than an hour on the stovetop, vegetarian beer chili is simple to make with quintessential chili ingredients. It's such a fun addition to game day, warms up chilly evenings, and a wonderful meal prep option.
Featuring your favorite kind of beer, homemade chili seasoning, and plenty of spice, this beer chili is a must-make this season. It has the same great flavor as this classic chili recipe and made without meat.
What is in vegetarian beer chili?
Beer of course, and plenty of veggies! Here are the stars of this beer chili recipe:
Veggies: We use a combination of onions, peppers, and garlic. Add in some jalapeños and tomatoes for classic chili flavor.
Beans: Instead of meat, use 3 kinds of beans for protein and texture.
Beer: Whether you are a beer lover or not, adding beer to your chili gives it an extra layer of flavor. Typically you add a liquid (broth or water) to chili anyway, so substituting some of that liquid with beer really elevates the flavor profile.
Flavor: Homemade chili seasoning and pure maple syrup and spice and sweetness.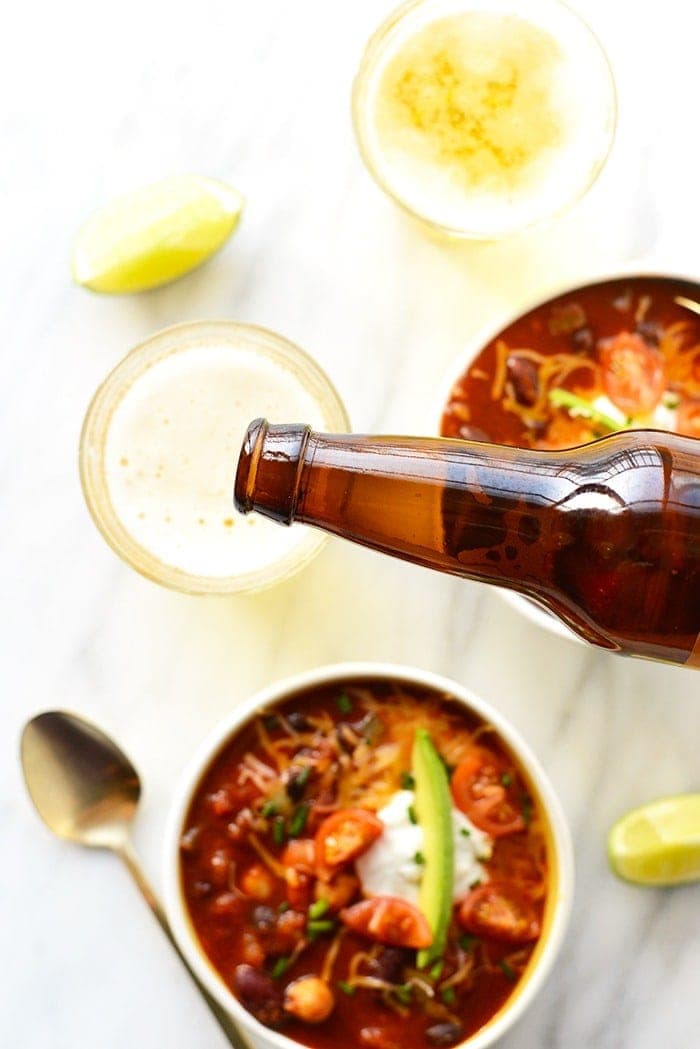 Vegetarian Beer Chili Variations
Chili recipes are incredibly versatile, and this vegetarian beer chili is no exception. Here are a few variations to try:
Beer: If you don't have beer on hand or need an alternative, feel free to use any broth or stock you have on hand. To keep this recipe vegetarian, make sure to use a veggie-based option.
Protein: Since this is a vegetarian recipe, we use beans as our main source of protein. If you are not vegetarian, you can add 1/3 pound of ground beef, chicken, or turkey. Cook it with the veggies in step 2.
Seasoning: Instead of chili seasoning, use 1/4 cup of chili powder and a pinch of garlic powder, ground cumin, smoked paprika, and ground pepper.
best beer for chili
The type of beer you use will determine the flavor of your chili.
For this vegetarian beer chili, we wanted a light hoppy flavor that wasn't very overpowering so we used a light lager. Instead of a light lager, try any of these:
IPA: IPAs tend to be a bit hoppier than most beers. Using an IPA will really enhance the beer flavor of your chili (more than any other beer option). If you're not a big beer drinker (or don't like the taste of beer), steer clear of using this beer in your chili.
Pale Ale: A pale ale will act like a lager in that it will not overpower the chili seasoning flavors and will add just the right amount of beer flavor.
Stout: A non-flavored stout will add a complex richness to any beer chili.
Flavored: Go crazy and use a jalapeño-flavored beer or a beer with another warm infusion for an extra punch.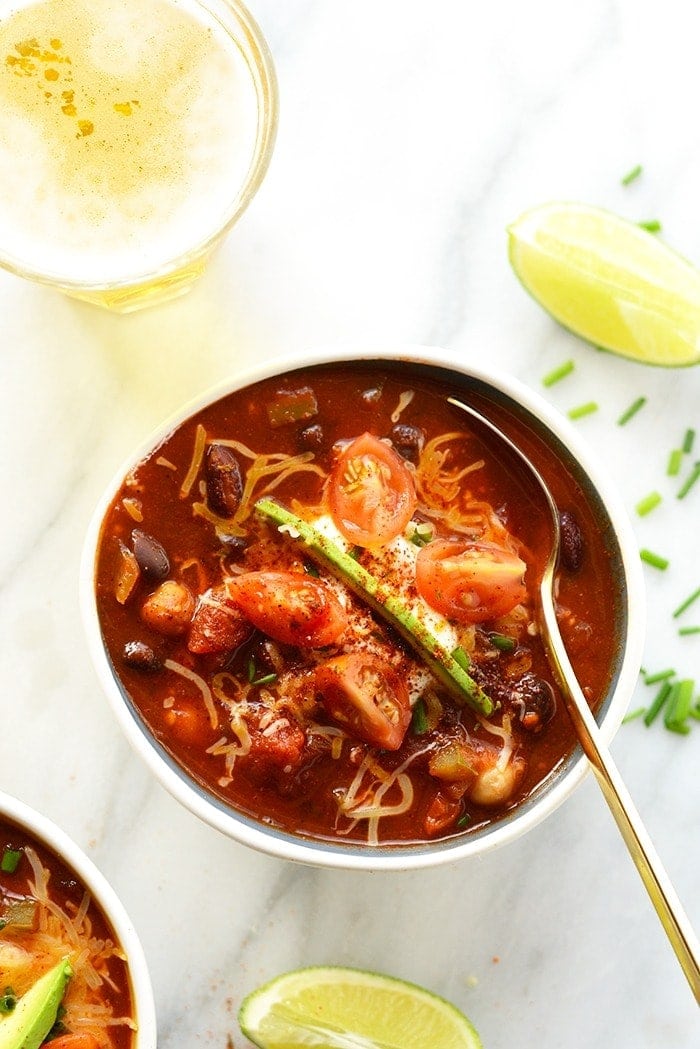 FAQ
Can you use gluten free beer or alcohol free beer?

Yes. Instead of regular beer, use the same amount of gluten free or alcohol free beer. Our favorite GF beer is Omission beer and our favorite alcohol free beer is Heiniken 0.0. There is something for everyone!
Does this chili taste like beer?

It depends on what kind of beer you use. If you follow the recipe as written and use a light lager, there will be a very subtle beer taste (even non-beer lovers loved it). If you use an IPA or more hoppier beer, the chili will definitely taste like beer.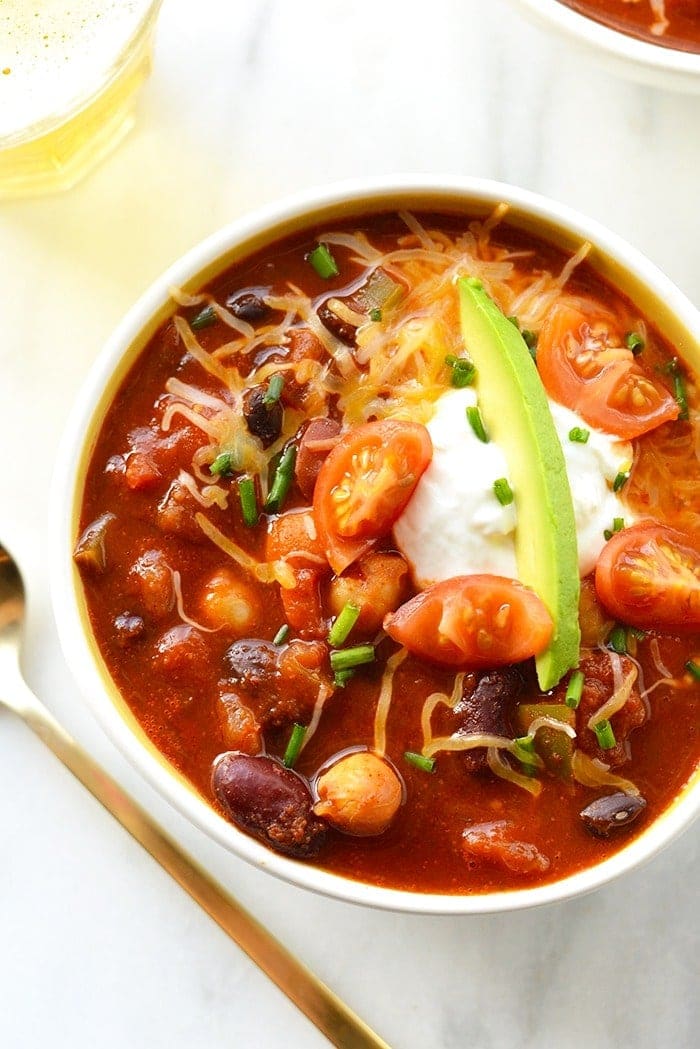 Storage
Store leftover chili in an airtight container in the refrigerator for up to 5 days. The chili will thicken as it sits, so you may need to add a little water to it before reheating and enjoying.
Freezing Chili
We love keeping a couple servings of chili in the freezer for meal time emergencies! Let the chili cool completely before transferring to freezer-safe containers. Freeze for up to 3 months. (And, here is even more about how to freeze soup and chili).
Chili Serving Suggestions
Serve bowls of vegetarian beer chili piled high with your favorite chili toppings like sliced avocado, Greek yogurt, and shredded cheese. Our favorite way to eat chili is right out of the bowl using a tortilla chip as a spoon!