These Southwest Sweet Potatoes are so delicious and super easy to make! They're full of nutritious ingredients to fuel your body with lasting energy, and are perfect to make ahead of time to ensure that you'll have something ready to go for your lunches or dinners for the week.
In this recipe, the ground turkey (and the tempeh in the vegetarian version) provides an optimal amount of protein which supports muscle protein synthesis – and the more we support our muscle the easier it is to regulate our body fat. As we age, we don't absorb the aminos from our protein as readily, so upping your protein intake after 40 can help you preserve and also add lean muscle!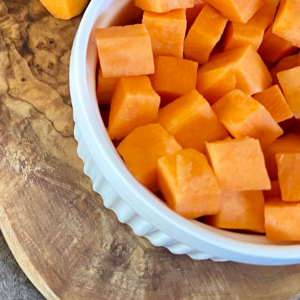 I used sweet potatoes since they're a delicious fiber-rich whole food carbohydrate that digests more slowly than simple or processed carbs. Slow digesting carbs like these helps stabilize blood sugar and promote a healthy gut microbiome, (1). They  are a great source of  Vitamin C and beta-carotene (2), which are powerful antioxidants that can protect against chronic and degenerative diseases (3).
I topped it all off with some fresh salsa and avocados – which are a wonderful source of healthy fat that helps you feel nourished and satisfied, especially when  including them with a serving of protein.
Avocados are rich in monounsaturated fatty acids (MUFA's) which have been shown to lower cholesterol levels (4). In addition to being a great source of healthy fat, avocados are high in fiber, rich in potassium, vitamin C and vitamin K (5) – all of which contribute to a strong immune system.
All of these healthy ingredients come together to create a truly amazing and easy meal that's perfect anytime of the day! You can serve this with a green salad to include even more veggies. Enjoy!
---
Southwest Sweet Potatoes
Servings: 4
You will need: knife, cutting board, measuring cups and spoons, mixing bowls, baking tray, large skillet, wooden spoon
Key: T=Tablespoon; tsp=teaspoon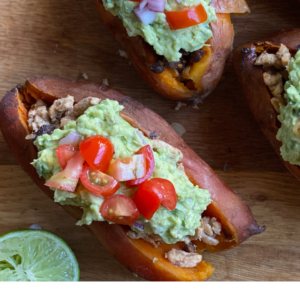 Ingredients:
For Sweet Potatoes:
4 small sweet potatoes
8 oz cooked black beans, drained and rinsed
1 lb ground turkey (or for a vegetarian version 1 lb tempeh, crumbled)
1 T extra virgin olive oil
1 medium onion, chopped
1 clove garlic, chopped finely
1 tsp ground cumin
1 tsp paprika
1 tsp oregano
1 tsp ground coriander
Sea salt and black pepper to taste
For Salsa:
1 cup cherry tomatoes, chopped
1/4 small red onion, diced
1/2 lime, juice of
Sea salt and black pepper to taste
For Guacamole:
2 avocados, mashed
1/4 red onion, finely chopped
1 T cilantro, chopped
Sea salt and black pepper to taste
Directions:
Preheat oven to 350 F.
Wash and pat dry sweet potatoes. Wrap each sweet potato in foil and place on a baking tray. Bake in oven for approx. 1 hour or until soft in the center.
While sweet potatoes are in the oven, heat olive oil in a medium sized pan, add onions, spices and garlic. Sauté over low to medium heat for 5-10 mins or until onions are soft and fragrant.
Add in ground turkey (or crumbled tempeh), breaking up with a wooden spoon while cooking, until cooked through.
Add in the black beans and mix and heat through for 5 mins.
Meanwhile, mix the cherry tomatoes and red onions for the salsa into a bowl, top with lime juice, salt and pepper, and set aside.
In another mixing bowl, mash the avocados and add in the red onion, lime juice, fresh coriander and salt and pepper. Mix until combined.
Once the sweet potatoes are cooked through and cool enough to handle, remove from the foil and cut lengthways to create an opening, being careful not to cut all the way through.
Spoon 1/4 of filling into each sweet potato and top with guacamole and salsa.
Nutrition Facts
Serving Size:

1 sweet potato
Calories per Serving:

530
I hope you enjoy this recipe! Let me know in the comments below if you make it and how it turns out.
---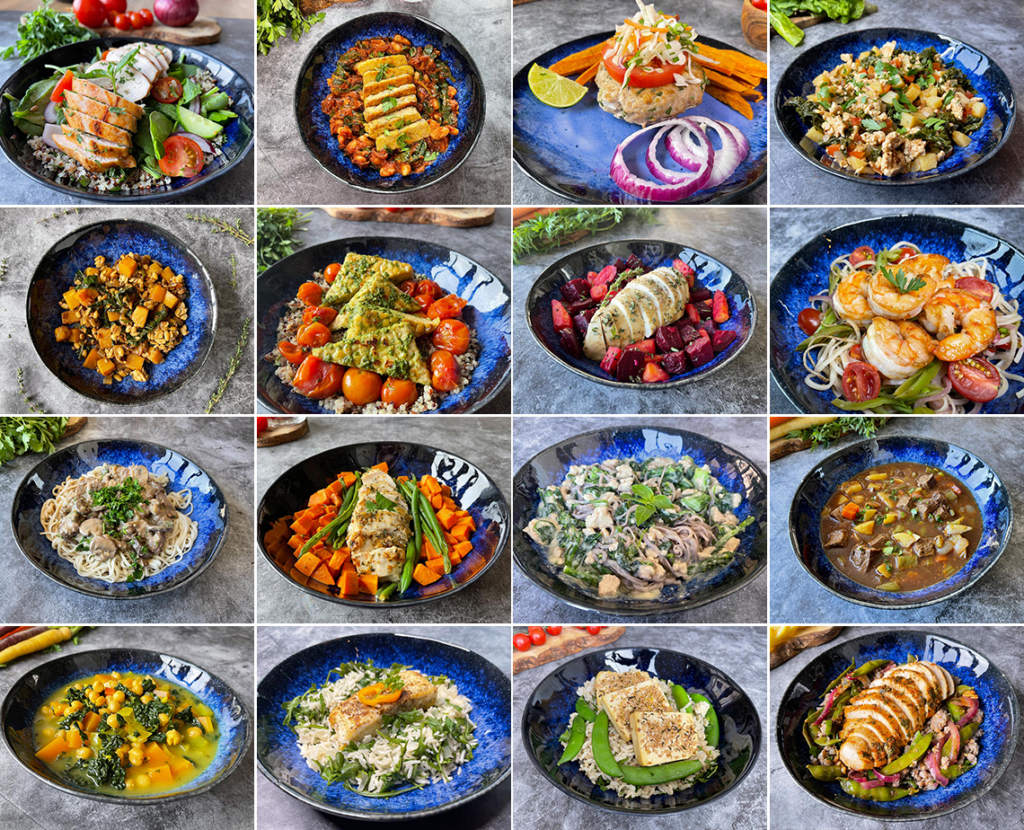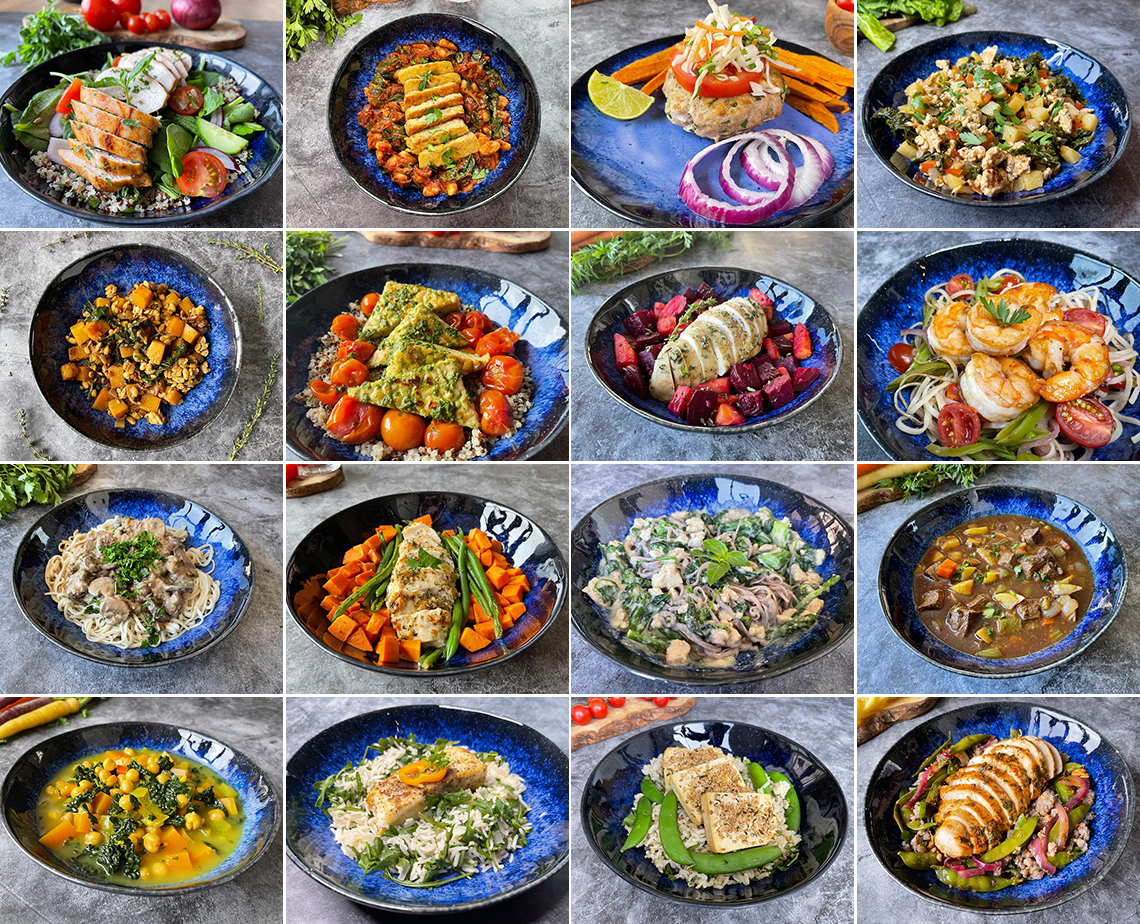 My Dinner Plan includes 6 months (that's 24 weeks worth) of menu plans, recipes and what I call "smart grocery lists" which you create with a click of a button from inside the recipes you want to make!
You'll save time on planning what to cook week after week, and save time spent at the store since you'll know exactly what you need.
You'll eat healthier with balanced and tasty meals (your choice of Omnivore or Vegetarian menu) that include all the nutrients you need to fuel your active lifestyle.
You'll save money on food costs with menus that have been strategically thought out in advance with complementary ingredients so you can avoid buying extra stuff you don't need – while still enjoying plenty of variety and flavorful dishes.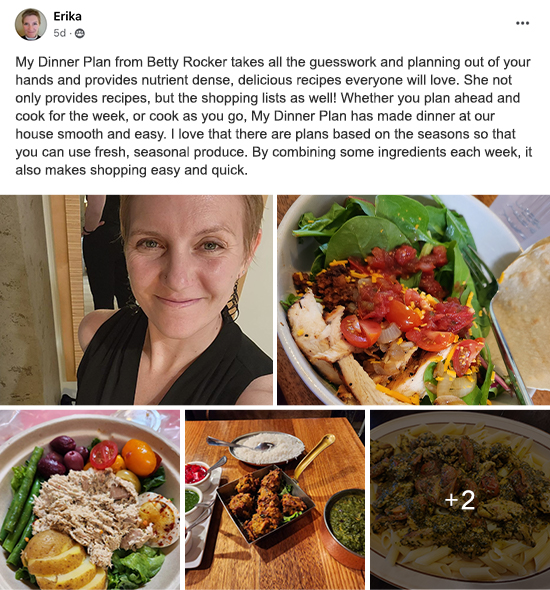 The post Southwest Sweet Potatoes appeared first on The Betty Rocker.