This PF Changs Lettuce Wrap recipe is one of our first viral recipes. It went viral on Pinterest when it first came out back in the dark ages of the early 2000s. These lettuce wraps not only taste exactly like the ones you get at PF Changs but they're made with pantry staples.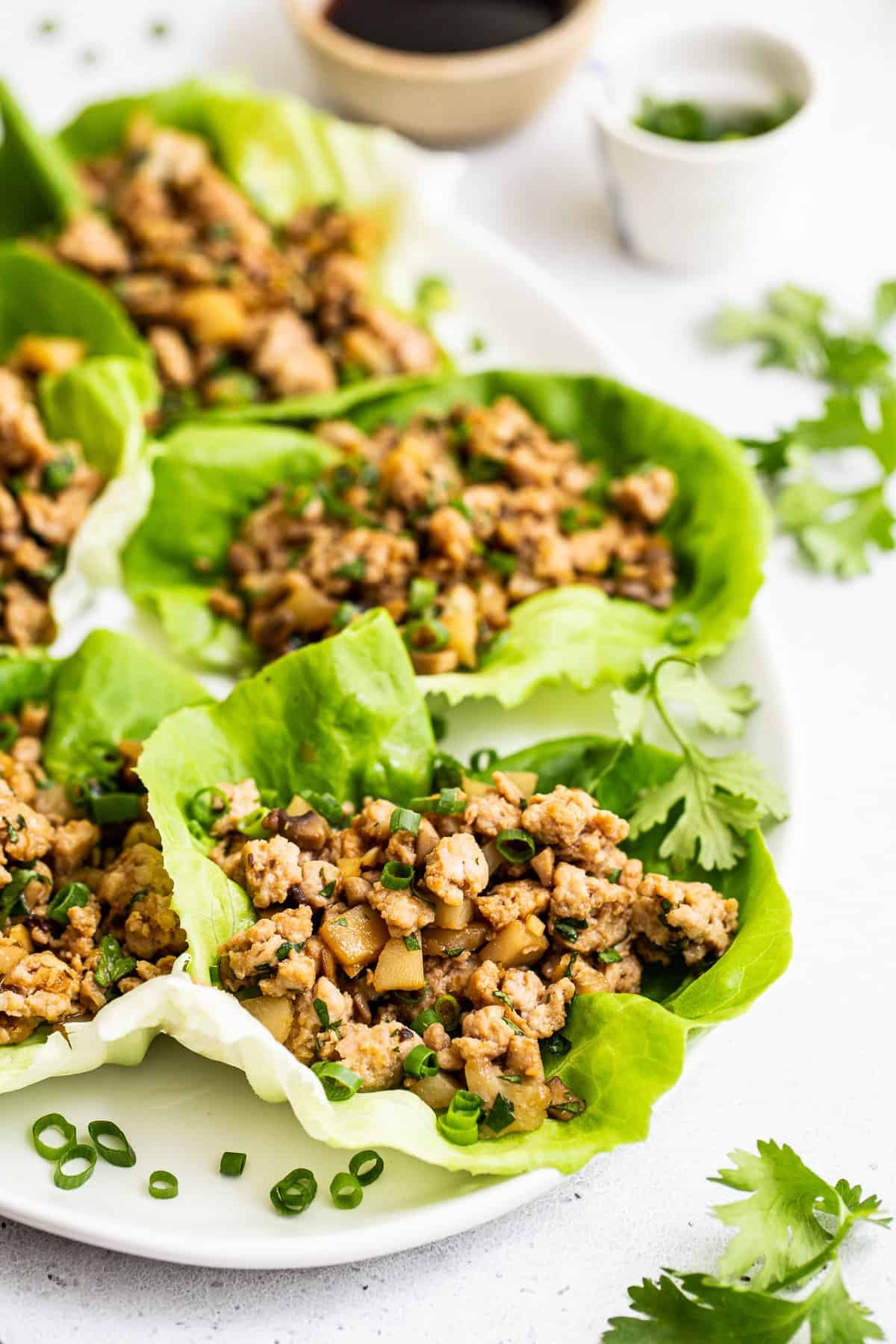 Featured Comment
Absolute best recipe! I go back to this one time and time again and it never fails. As a great back up when I can't think of anything else to make. -Lydia
I am a PF Changs girlie (ask anyone that knows me) and every time I go, I order their famous appetizer –> chicken lettuce wraps. Sometimes I even get it as a main meal!
What I'm trying to say is that my expertise in eating PF Changs Lettuce Wraps helped me perfect this 5-star recipe (just look at the comments!).
What is in PF Changs Lettuce Wraps?
ground chicken: lean ground chicken is what makes up the bulk of the "meat."
mushrooms: sneaky, but necessary. Umami adds so much flavor to this recipe and really gives it a unique flavor.
water chestnuts: this is what gives them their famous crunch.
In addition to the meat of the lettuce wraps, is the sauce. The sauce is truly what makes these chicken lettuce wraps so special.
PF Chang Lettuce Wraps Sauce
The sauce in these chicken lettuce wraps is truly what makes the recipe. It's sweet, fresh, and tastes exactly like the sauce from the restaurant. Here's what you need:
hoisin sauce: hoisin is sweet and flavorful. It's not gluten-free, but you can find a few different gluten-free hoisin sauces out there, so keep an eye open if you're gluten-free!
freshly grated ginger: ginger is a must for this sauce. We highly recommend you use freshly grated ginger. If you don't have fresh ginger, you can always sub our favorite ginger squeeze product!
soy sauce: It wouldn't be a lettuce wrap recipe without a little bit of soy sauce.
minced garlic: don't skimp on the garlic! That is all.
rice vinegar: A little rice vinegar goes a long way. I'm a firm believer that vinegar of any kind should be added to most sauces because it brings out the other flavors of the sauce.
rice vinegar: A little rice vinegar goes a long way. I'm a firm believer that vinegar of any kind should be added to most sauces because it brings out the other flavors of the sauce.
corn starch: corn starch is used to thicken the sauce up a bit so it's not so runny.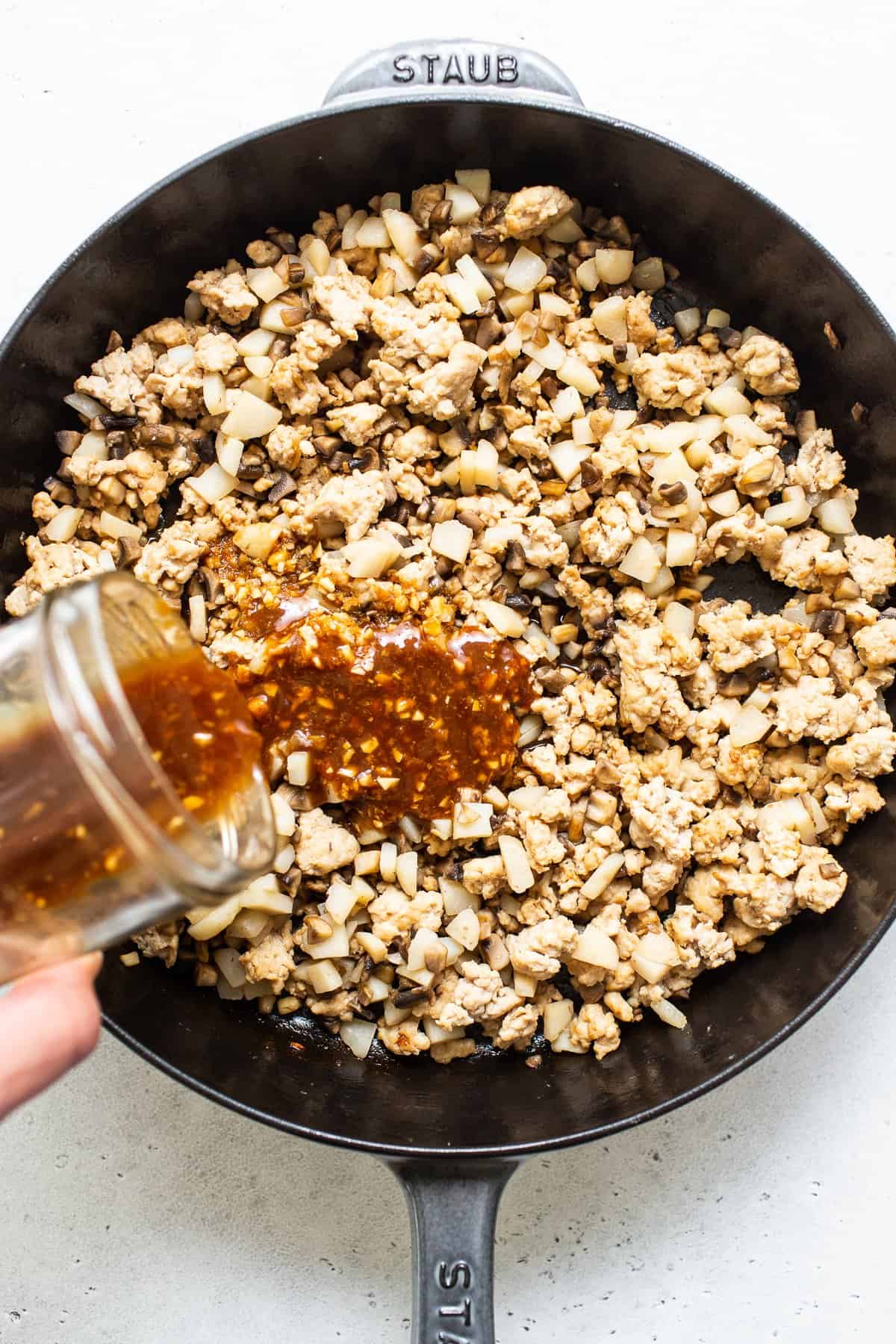 FAQ
What is in the lettuce wraps at PF Chang's?

PF Chang's famous lettuce wraps are made from a combination of ground chicken, diced mushrooms, and minced water chestnuts with a super simple sauce made from hoisin, ginger, soy, and garlic.
What is the sauce for PF Changs lettuce wraps?

PF Changs lettuce wraps have a sweet and gingery sauce made from a base of hoisin sauce, soy sauce, freshly grated ginger, garlic, and rice vinegar.
What goes well with lettuce wraps?

Other Asian-inspired dishes pair nicely with chicken lettuce wraps such as chicken fried rice, egg rolls, cream cheese wontons, beef and broccoli, and cashew chicken stir fry.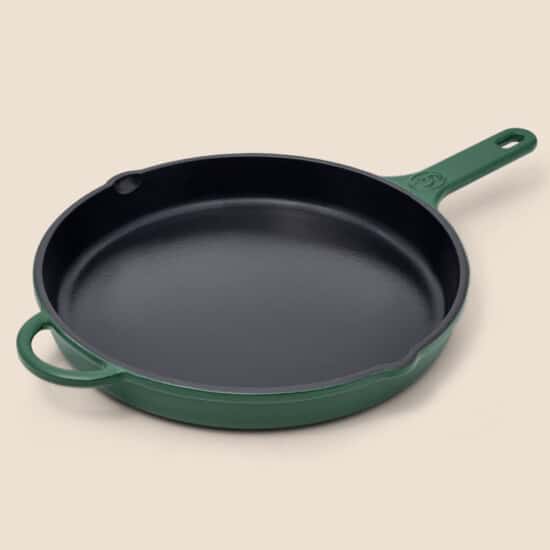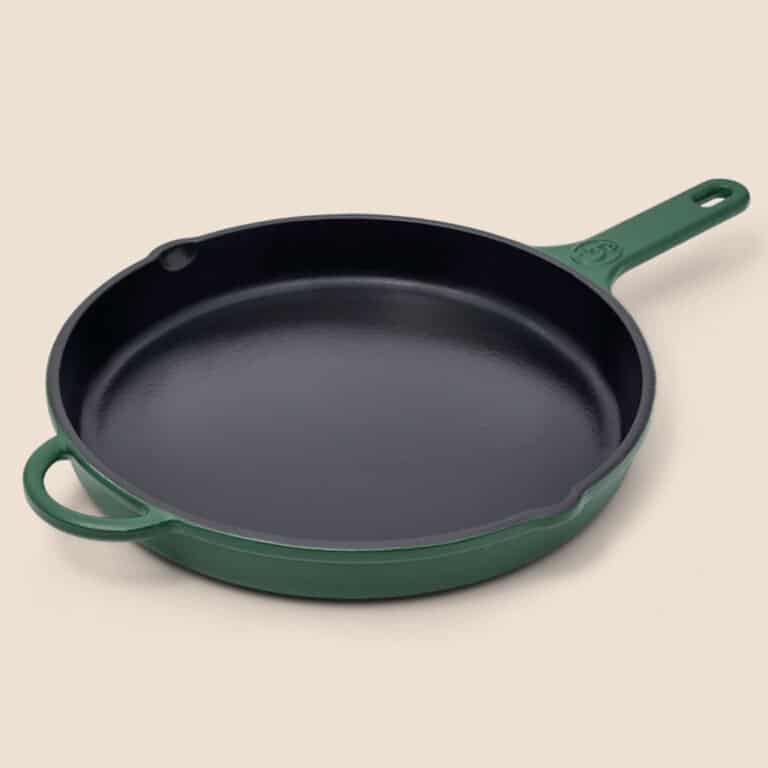 Great Jones
Cast Iron Pan
The Great Jones King Sear is our favorite cast iron pan. It's definitely worth the splurge to add to your kitchen collection!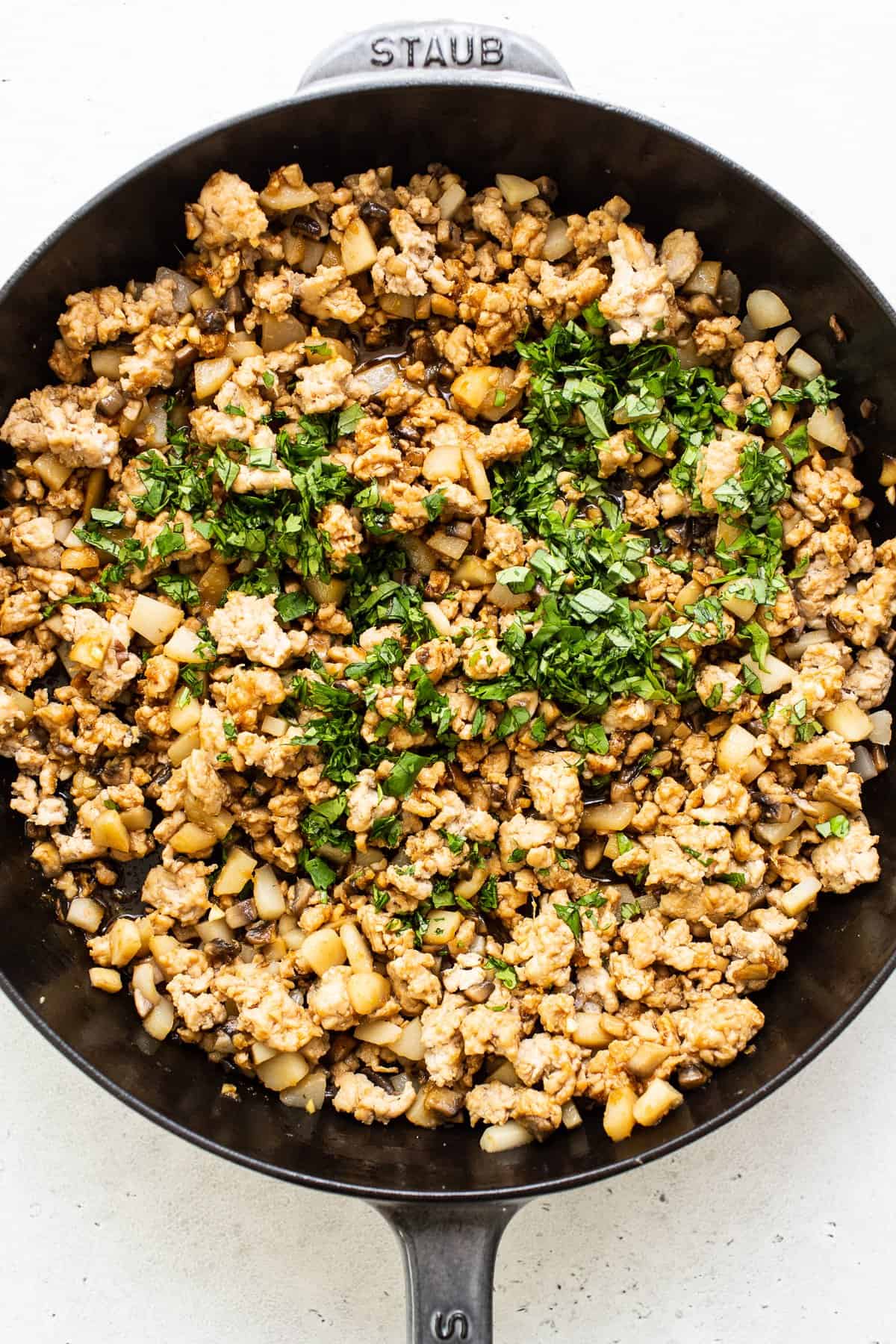 Variations
Make it vegetarian: skip the chicken and double the mushrooms to make these PF Chang Lettuce Wraps vegetarian.
Make it a bowl: looking for more of a hearty way to serve these lettuce wraps? Serve them as a bowl with either white rice or noodles.
Add some spice: add some heat with sriracha or red chili garlic paste if you like it spicy.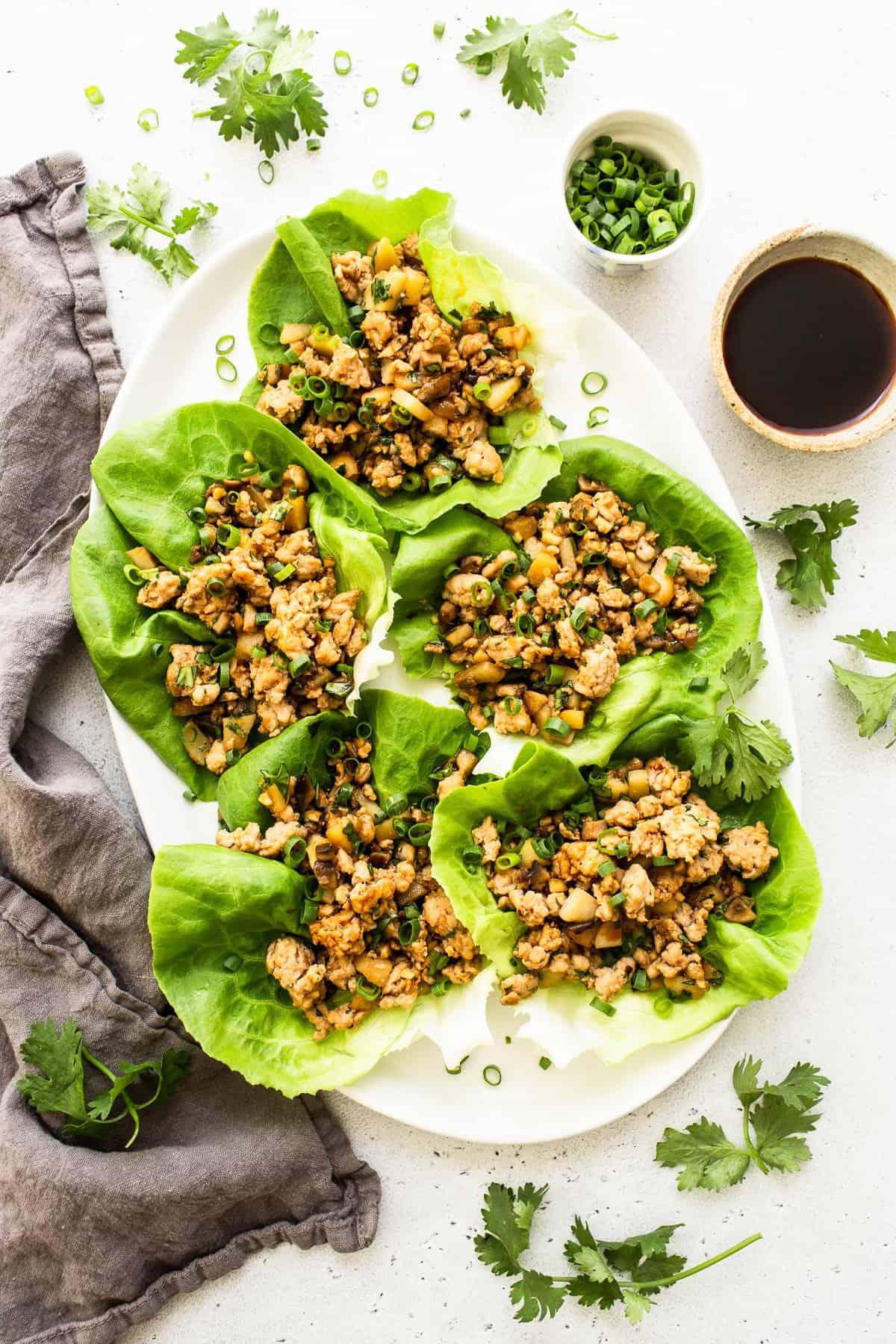 Serving Suggestions
Eating these chicken lettuce wraps as an appetizer? Serve them with one of our other take-out-inspired recipes from Fit Foodie Finds!
More Lettuce Wraps Recipes
If you love this PF Changs Lettuce Wrap recipe, you will love our other lettuce + wrap recipes from Fit Foodie Finds! Check it out below.
Photography: photos taken in this post are by Ashley McGlaughlin from The Edible Perspective.