You'll absolutely love these peanut butter chocolate cheesecake cups! They're protein-packed thanks to blended cottage cheese, and taste just like cheesecake.
We Love Cottage Cheese Desserts!
Raise your hand if you're loving the cottage cheese dessert trend! We certainly are! Whipped cottage cheese is super creamy, delicious and protein-packed. And today we're sharing our new fave healthy dessert — these peanut butter chocolate protein cheesecake cups. Can you say delish?!
These single-serve desserts come together in 3 delicious layers and taste JUST LIKE CHEESECAKE 😀
Why we love cottage cheese desserts
Quick and easy!
Delicious creamy cheesecake-like flavor.
Super nutritious and protein-rich.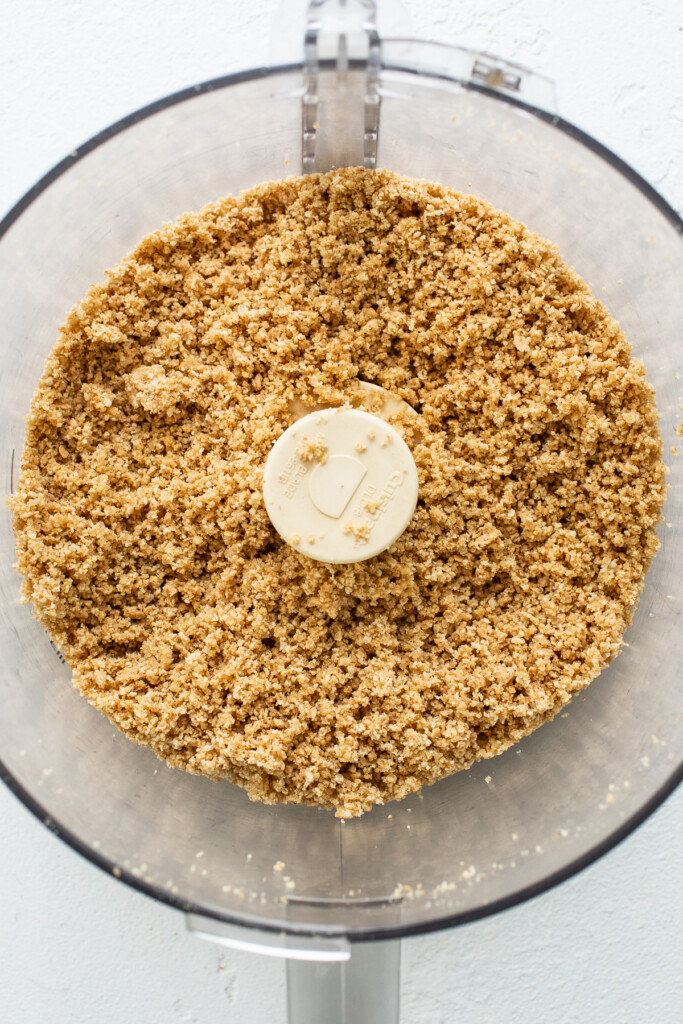 What You Need
This peanut butter chocolate cheesecake is composed of 3 different layers. Yes, you get three bites of flavor in every bite. Here's what you need:
Graham cracker layer
Cottage cheese(cake) layer
Cottage cheese
Honey
Peanut butter
Chocolate layer
Semi-sweet chocolate
Coconut oil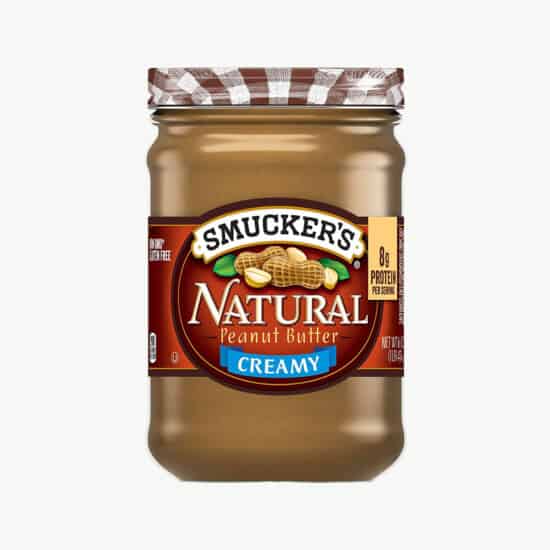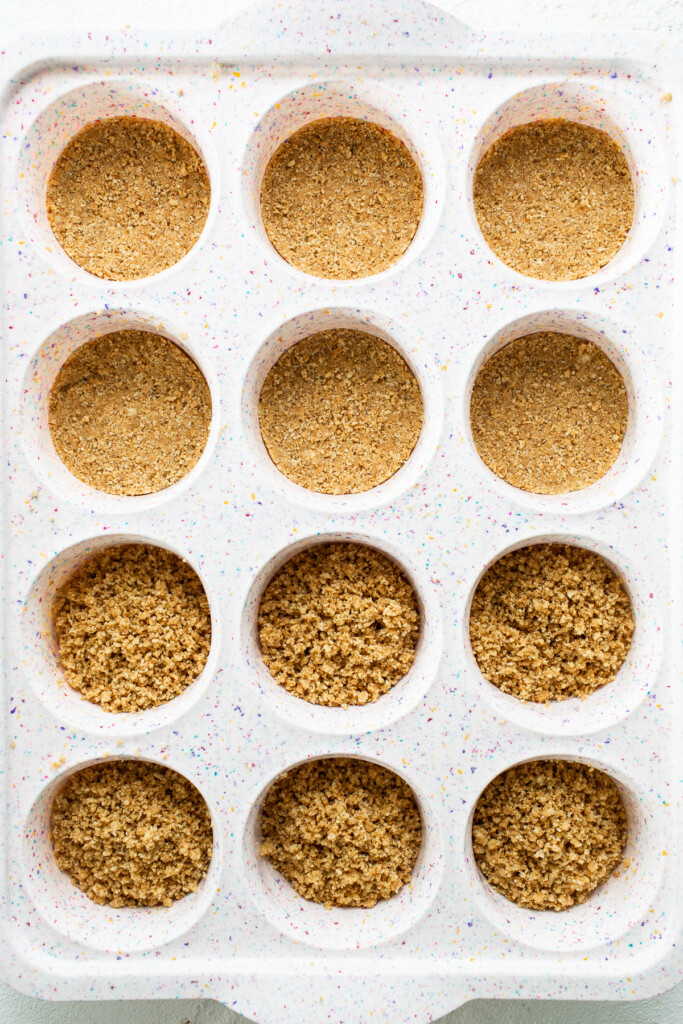 How to Make Peanut Butter Protein Cheesecake Cups
Prepare the graham cracker crust
Place graham crackers and butter into a high-speed food processor, and process on high until the mixture forms a crumble.
Spoon 2 heaping tablespoons of the graham cracker crumbs into each muffin cup of a muffin tin with muffin liners. Use a spoon to press the crumble down into the liners.
Bake the graham cracker crust for 5 minutes at 350ºF. Remove the crust from the oven and allow the crust to cool. 
Prepare the chocolate layer
Add the chocolate and coconut oil to a microwave-safe bowl, and microwave on high in 20-second increments, stirring in between until the chocolate is fully melted. 
Scoop two heaping teaspoons of the melted chocolate onto the top of the graham cracker crust. Spread it evenly over the crust and transfer the pan to the freezer for 10 minutes. 
Prepare the peanut butter layer
Add the cottage cheese, peanut butter, and honey into a high-powered food processor and process on high until thick, creamy, with no lumps.
Scoop 1.5-2 heaping tablespoons of the cottage cheese mixture to the top of the chocolate layer and evenly spread the layer out. Top with mini chocolate chips and flakey salt.
Freeze & Enjoy!
Transfer the pan to the freezer and freeze for at least 2 hours to firm up. Enjoy right out of the freezer!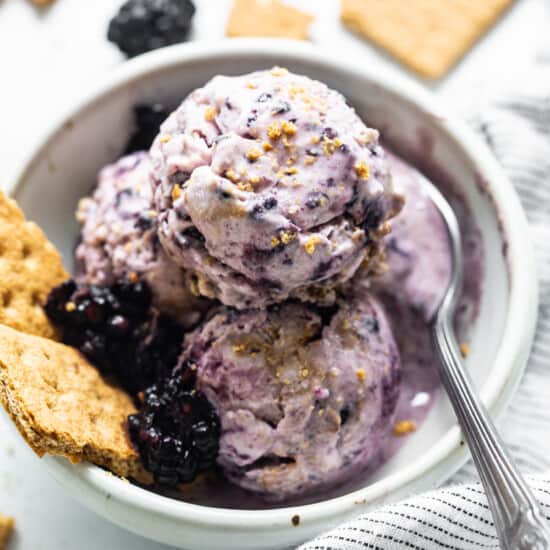 try it!
Blackberry Cheesecake Cottage Cheese Ice Cream
If you're jumping on the cottage cheese dessert trend, you HAVE TO try our blackberry cheesecake cottage cheese ice cream. Yum!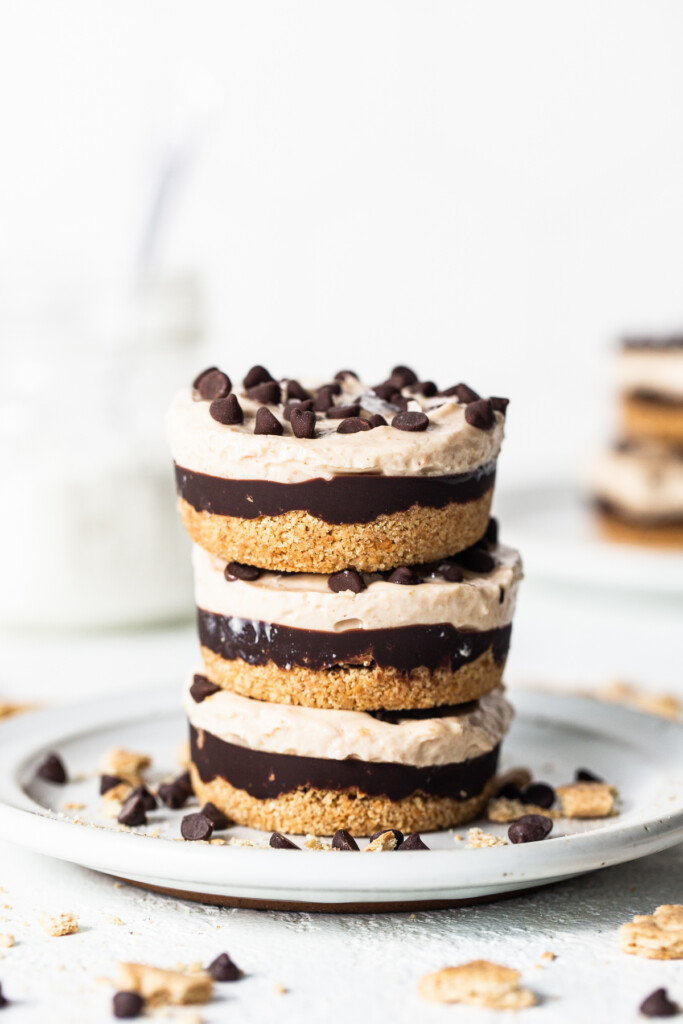 Storage
Store your peanut butter cottage cheesecake cups in an airtight container in the freezer for up to 3 months.