Wondering what's for dinner? Try this Thai-inspired aromatic One-pot Chicken (or Tofu) Soup with Basil-Coconut Rice! It's a simple, one-pot meal that's healthy and delicious and covers all of your nutritional bases.
This meal has all the nutrient building blocks your body needs: chicken or tofu for your protein, rice for your carbs and coconut milk for your healthy fats!
We've also got some great macronutrients from the veggies included:
Garlic is rich in sulfur compounds which help regulate blood pressure (1). Garlic can help improve your iron metabolism, and may help regulate fat cell production (2).
Ginger is well known as an anti-inflammatory food, and its volatile oils are powerful scavengers of free radicals. It has proven anti-parasite, antimicrobial and anti-fungal properties (3).
Basil contains some beneficial volatile oils that have anti inflammatory benefits; great to have after you've conquered a tough workout session. It's also great for your gut health. (4)
I love how easy this recipe is and how versatile soups are in general – it's easy to add your favorite veggies and make substitutions with what you've got on hand!
Basil Coconut Soup with Chicken and Rice
Yield: 2 servings
You will need: Cutting board and knife, measuring spoons and cups, small bowl, medium pot, cooking spoon
Key: T=Tablespoon; tsp=teaspoon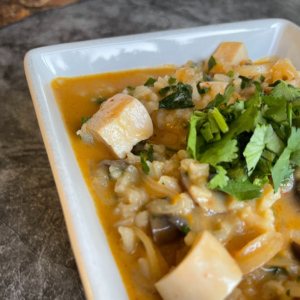 Ingredients:
2 (5-6 oz) boneless skinless chicken breasts (or 12 oz tofu), cut into ½ inch cubes
1 tsp coconut oil
1/2 yellow onion, sliced
3 garlic cloves, minced
1 cup mushrooms, sliced
1 T red curry paste
½ cup long grain white rice
2 cups low sodium chicken broth (or vegetable broth)
1/2 lime, juiced
2 T ginger, grated
1/4 tsp sea salt
1 (15 oz.) can lite coconut milk
2 T fish sauce (optional)
1 T honey (optional)
3 T basil, sliced
2 green onions, thinly sliced
Directions:
Begin by cubing the chicken (or tofu) into ½ inch cubes. Season with a generous pinch of salt and allow to season in butcher paper or in a bowl.
In a medium sized pot, heat coconut oil over medium high heat. Sear chicken (or tofu) and brown on all sides.
Once it has a nice brown color add the onion, mushrooms, and garlic. Cook with the chicken or tofu till onions are softened, about 5 minutes.
Add red curry paste, lime juice, ginger, coconut milk, fish sauce (optional), honey (optional), sea salt, rice, and chicken broth.
Bring to a simmer over medium low heat. Cook for 15-20 minutes until rice is softened and vegetables are tender.
Serve in bowls topped with basil and green onions.
Nutrition Facts
Calories per Serving:

539
I hope you enjoy this recipe! Let me know in the comments below if you make it and how it turns out.
---

My Dinner Plan includes 6 months (that's 24 weeks worth) of menu plans, recipes and what I call "smart grocery lists" which you create with a click of a button from inside the recipes you want to make!
You'll save time on planning what to cook week after week, and save time spent at the store since you'll know exactly what you need.
You'll eat healthier with balanced and tasty meals (your choice of Omnivore or Vegetarian menu) that include all the nutrients you need to fuel your active lifestyle.
You'll save money on food costs with menus that have been strategically thought out in advance with complementary ingredients so you can avoid buying extra stuff you don't need – while still enjoying plenty of variety and flavorful dishes.

The post One-pot Chicken Soup with Basil Coconut Rice appeared first on The Betty Rocker.