This copycat apple crisp oatmilk frappucino with maple whipped cream tastes as delicious as it sounds.
Unlike the original Starbucks version, this instant fall favorite uses iced apple cider cubes and real maple syrup that takes this delicious drink to a whole new level of amazing.
Whether you're a Starbucks regular or not, you've got to admit they make delicious drinks. Even so, making your own version at home allows you to get really creative and decadent with it, which is why we just had to develop our own—dare we say—better version! With creamy oat milk, apple, cinnamon, maple, and brown sugar flavors, it's the ultimate fall drink!
The name of this drink may be as long as your CVS receipt, but it's actually a super easy recipe. Just blend up apple cider cubes with espresso and oat milk. Then pour it into your favorite glass and top with whipped cream, maple sugar, and a drizzle of maple syrup. Is there really any better way to celebrate the fall season?
What is in an apple crisp oatmilk frappuccino?
Apple cider ice cubes: don't have time to make apple cider cubes? Use ½ cup of apple cider and 1 cup of regular ice cubes. It still tastes delicious! 
Espresso: you can use your favorite brand of espresso here.
Brown sugar: brown sugar will sweeten the espresso and give it a hint of spice.
Cinnamon: cinnamon adds a lovely fall flavor to the espresso.
Oat milk: oat milk makes this frappuccino creamy and dreamy.
Homemade whipped cream: we made our whipped cream from scratch, but store-bought works too!
Maple sugar: apple and maple sugar? Yes, please!
Maple syrup: a drizzle of maple syrup brings all the fall flavors together.
Blender: you'll need a blender to get the consistency of this drink nice and smooth.
Substitutions & Variations
Oat Milk: This copycat apple crisp oatmilk frappucino would taste great with regular milk or non-dairy milk as well.
Whipped Cream: ​While we recommend making your own whipped cream, any store-bought brand works too!
Sugar: Feel free to swap out the brown sugar or maple sugar for your favorite low-calorie/low-carb sugar. Just note it'll add a different taste.
​​Maple Syrup: Is caramel more of your jam? Drizzle on some caramel sauce instead!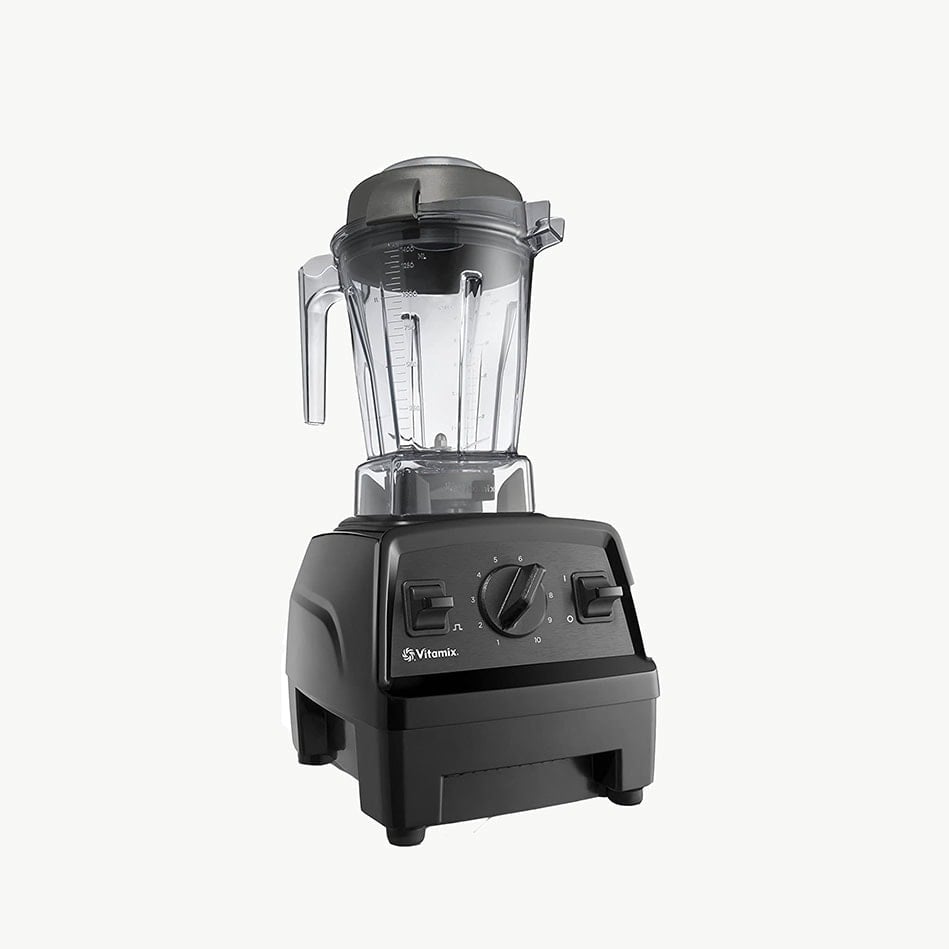 Our Favorite
Blender
Looking to upgrade your blender? Check out our favorite Vitamix Blender. It's our favorite high-speed blender perfect for making smoothies, soups, and nut butter.
FAQs
What does an apple crisp oatmilk frappe taste like?

This iced frappe is a delicious combination of sweet and spice. With flavors of apple, cinnamon, and brown sugar blended with oat milk and ice, this is the perfect fall treat to brighten your morning.
Is this apple crisp frappuccino vegan?

Yes! Since we're using oat milk as our base, this frappucino is completely vegan-friendly and dairy free. It can also be made with any type of non-dairy milk alternative, such as almond or coconut, for those who prefer it. 
What oatmilk does Starbucks use?

Starbucks has been serving oat milk since 2021, and they exclusively use Oatly Barista Edition oat milk in their coffee beverages. It froths and steams perfectly for barista-style beverages.
Storage
We don't recommend storing this recipe, so be sure to make as much as you'll drink!
Serving Suggestions
​This apple crisp frappuccino is the epitome of fall, but why not take it even further with some delicious fall meals and desserts? 
Have the breakfast of your dreams with this Incredible Pumpkin French Toast, Homemade Apple Cinnamon Granola, or Apple Cinnamon Rolls.
Feeling savory? Our Harvest Orzo Skillet and Pumpkin Chili are as cozy as your favorite fall sweater.