First, prepare the rack of ribs. Remove the membrane from the ribs. To remove the membrane, slide a knife under the membrane (which is a white film layer) on the backside of a rack of ribs and then pull the membrane off with your fingers.
Massage the kosher salt and pepper into the ribs and set aside.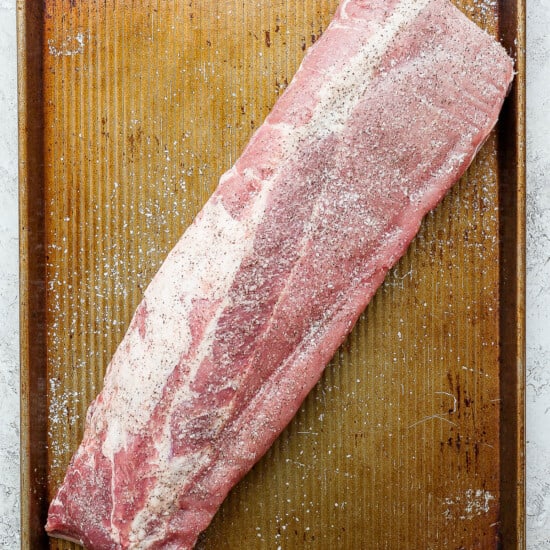 Make the rib marinade. Add all of the ingredients for the rib marinade to a bowl and whisk until combined.
Transfer the ribs to a gallon-sized bag or a 9×13-inch pan. Pour the marinade over the ribs. Be sure the ribs are covered in marinade. Flip the ribs meat side down, cover, and refrigerate the ribs for at least 1 hour or overnight for more tender and flavorful ribs.
Make the spice mix. Combine all of the ingredients for the dry rub in a bowl until and mix to combine. Set aside.
Preheat the grill to 300ºF.
Remove the ribs from the refrigerator and let the excess marinade drip from the ribs. Season the ribs with about 4-6 tablespoons (the amount varies by ribs) of the dry rub. Rub the spices into the ribs on both sides so that they're completely covered.
Let the ribs sit at room temperature for at least 15 minutes.
Cook the ribs. Transfer the ribs onto the grill and cook meat-side-down, over indirect heat for 1 hour.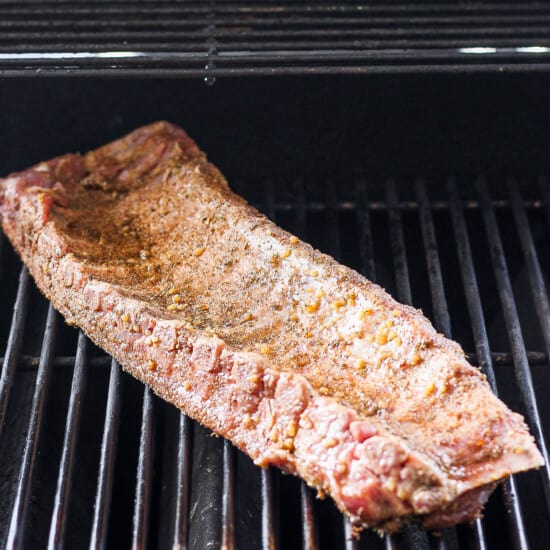 Bring the temperature of the grill up to 400ºF. Move the ribs over to direct heat, making sure they are meat-side-up. Use a brush to coat the ribs with bbq sauce (if using). Grill over direct heat for 10-15 minutes, flipping halfway through.
Remove the ribs from the grill when the internal temperature reaches 195ºF but you can also tell that the ribs are done because they will start to expose the bone.
Let the ribs rest for 10 minutes and serve.